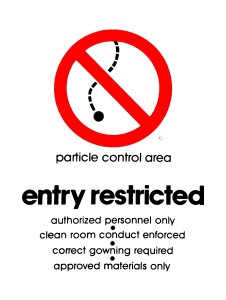 Each lab member will be trained in protocols regarding lab entry, chemical storage, disposal of materials, limiting exposure and personal protective equipment (PPE) as described in the chemical hygiene plan. Lab members must also take additional training in order to handle extremely hazardous chemicals such as concentrated acids, oxidizers, and toxins. Supplementary and refresher training is also available, and well utilized by many lab members.
In order to gain access into the cleanroom, users are required to take and pass a short test on our Policies and Procedures.
Bringing Chemicals into the Lab
The person (or persons) bringing a new chemical substance into the lab must provide the following to CNM2 Staff:
A current Material Safety Data Sheet for the chemical (the only exception is when the chemical substance has been specifically synthesized for a research project);
A completed Microfabrication Personal Chemical form. After submitting this form, depending on the hazards associated with your process, an additional SOP may be requested. Upon staff approval, the chemical will be marked with a green label. If the chemical has been approved previously, there is no need to resubmit this form but please obtain another green label for the chemical. Any chemicals that do not have the label will be disposed of, as this poses additional hazards to users and accumulates space.
Within 24 hours, CNM2 Staff will approve the chemical's introduction to the facility, or schedule a meeting to clarify remaining issues. Once safety issues have been addressed to the satisfaction of the user and the facility manager, the chemical can be brought in.
All near-miss or any accidents should be reported to staff ASAP. The link above can be used to describe additional details about the event.
You can also review the standard operating procedures (SOPs) for the concentrated chemicals available at CNM2.
Chemical Use
The chemicals used in the Center for Nano and Micro Manufacturing are extremely hazardous. Table 1 below lists some of the more common chemicals used in the lab and their concentrations..
Table 1: Concentrations of Common Chemicals in the Center for Nano and Micro Manufacturing
Chemical Type
Chemical
Concentration
Acids
Hydrofluoric Acid (HF)
49%
Hydrochloric Acid
40%
Sulfuric Acid
96%
Phosphoric Acid
86%
Nitric Acid
68%
Acetic Acid
100%
Bases
Ammonium Hydroxide
29%
Potassium Hydroxide
45%
Oxidizers
Hydrogen Peroxide
30%
Nitric Acid
68%
Fluorides
Ammonium Fluoride
66%
Buffered Oxide Etch
50%
Hydrofluoric Acid
49%
Solvents
Acetone
100%
Isopropanol
100%
Methanol
100%
Toluene
100%
These concentrations, necessary for microfabrication, are much higher than those found in conventional undergraduate chemistry labs. Many of these chemicals can cause severe damage to human tissue. Therefore, you must be alert and cautious when using these chemicals to avoid all contact with them. When you follow the safety procedures below, your risk of injury will be small. Tables 2 and 3 below show some common corrosive and flammable chemicals, respectively, used in the lab.
Table 2: Some Corrosives Used in the Center for Nano and Micro Manufacturing
Chemical Type
Chemical
Corrosives
Ammonium Fluoride
Ammonium Hydroxide
Buffered Oxide Etch; (BOE)
Hydrochloric Acid
Hydrofluoric Acid
Phosphoric Acid
Potassium Hydroxide
Resist Developer
Sulfuric Acid
Table 3: Some Flammable Chemicals Used in the Center for Nano and Micro Manufacturing
Chemical Type
Chemical
Flammables
Acetone
Chlorobenzene
Methanol
Isopropanol
Resist Primer
Xylene