Microelectronics and Nanotechnology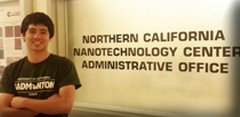 have defined the age we live in. Come be a part of our mission! We support a team of energetic undergrads for routine lab maintenance and management.
Typically, we look for students with good hands-on abilities such as cooking, crafts, and repair, regardless of previous work experience or GPA.
You can apply for an unpaid apprenticeship, which is great for getting your hands dirty and attaining basic work experience in the field of nanotechnology. It will also lead-in to paid work in the future. Positions are for 10hrs/week with flexible hours.
You can Contact Us if you interested in a position.