Microelectronics and Nanotechnology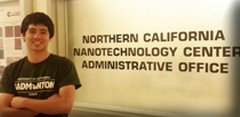 have defined the age we live in. Come be a part of our mission! We support a team of energetic undergrads for routine lab maintenance and management.
Typically, we look for students, preferably engineers, with good hands-on abilities such as cooking, crafts, and repair, regardless of previous work experience.
You can apply for a Student Assistant Position, which is great for getting your hands dirty and attaining basic work experience in the field of nanotechnology. Positions are for 15hrs/week with flexible hours.
You can Contact Us if you interested in a position.